KU professor named chair of technical committee

Lawrence,KS (03-04-2001)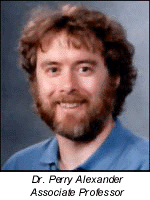 Perry Alexander, an associate professor of electrical engineering and computer science at Kansas University, has been elected chair of the Computer-Based Systems Technical Committee of the international Institute of Electrical and Electronics Engineers.
The committee, with more than 400 members, is scheduled to meet April 18-19 in Washington, D.C.
Alexander is a faculty researcher for KU's Information and Telecommunication Technology Center.
For more information about the committee, click on www.dcs.napier.ac.uk/ecbs/.
For more information, contact ITTC.