KU tech center works to turn workplaces into 'smart rooms'

Lawrence,KS (07-03-2000)
Imagine giving your next big presentation in the conference room of the future. You announce, "Begin setup," and automatically the lights dim, the blinds close, a television display emerges from the wall and remote cameras and microphones click on. The final touch -- the presentation notes you prepared on your home computer appear on the laptop in front of you.


Where would you go to give such a presentation? In a few years, you may be looking no further than your own workplace.


Research for this technology already has begun at the Information and Telecommunication Technology Center at the University of Kansas in Lawrence. With a $1.29 million grant from the National Science Foundation, ITTC's Ambient Computational Environments project (ACE) is creating "smart rooms" for the 21st-century workplace.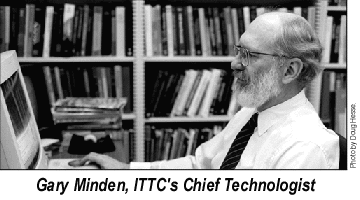 "We think computing resources are going to become pervasive in your everyday environment," said Gary Minden, ITTC's chief technologist. "We want to try to build where you just expect computing to be there like you expect a phone to be there."
The "smart rooms" will be complete multimedia facilities with high-definition cameras, projectors and audio equipment. Minden, a professor of electrical engineering and computer science, said a big challenge will be developing a way for people to access their personal computers from any terminal anywhere. An additional challenge will be how to secure the private information while still making it more accessible.


"It's the kind of thing when you walk into a conference room there would be a laptop at each seat, and you could pull up what you need for the meeting," Minden said. "The key is to do it in a secure and private way."


The ACE system will operate similarly to a network, but users will be able to access their entire workspace, rather than just a few files. In addition, desktop computers will not have a hard drive.


Instead, information will be stored in a central location, such as a server or on the Web.


"If we can make it a working environment, we'll have the tools to move access to your workspace from many different points in a secure manner," Minden said. "What you have on your desk is just a portal, the access point, to retrieve information."


Susan Gauch, associate professor of electrical engineering and computer science, leads ACE's effort in information retrieval. Based on documents open on a user's desktop, search engines would be able to understand the context of a search request to give more precise information.


"As long as what you're sending (to search) is one word or two, no matter how well they're indexed, it's the classic needle in a haystack," Gauch said. "With a contextual search, it pays attention to what else is on your computer, what you've been working on recently. It depends on the user what a good 20 documents will be."


Although software already exists to limit searches from millions to thousands of documents, more precise retrieval is not possible right now.


"What is not known how to do yet is to go from the 10,000 to the good 20. We need to study who the user is and what he's doing (when he makes the search)," Gauch said. "We're trying to essentially get higher results for people."


Voice command and gesture recognition also are part of the team's research. To provide security, identification could be made by voice, with a fingerprint or with a carry token or card. With information stored away from a person's desktop, security through proper identification is an integral part of the project's success.


"We'd like to tackle some of those problems and build them into the system from day one," Minden said. "We're trying to build in privacy."


Joe Evans, ITTC's acting director, said that 14 KU faculty members and 15 to 20 students would be working on ACE for four years. ITTC is the second-largest research center at KU and receives financial support from industry, federal and state institutions.


The team plans for four rooms to be equipped during the project's early phases, but that number will expand gradually. Evans said it would cost a business $15,000 to $20,000 to completely outfit a single conference room.


"We're integrating the virtual world and the real world," Evans said. "I think it's just a matter of making the average business more efficient."


The potential for other uses of the technology is great. Evans said many of the ideas could be incorporated into private residences.


"We're really trying to make all of the information technology resources and applications that have become available more accessible to the population at large," he said. "It's an entire new world of possibilities."


For more information, contact ITTC.