Hats Off to Electrons

Lawrence,KS (05-01-2000)
The computer revolution has led to a recent funding surge at KU in information technology. The KU Information and Telecommunication Technology Center focuses on research and technology transfer in the area of transmission systems.


Researchers study networking and distributed systems, lightwave communication systems, intelligent systems and information management, wireless communications and digital signal processing.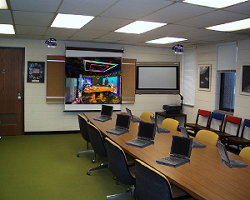 What if your computer weren't just a box in your house or on your lap? What if providing a thumbprint--or voiceprint--to any computer would let you access your files and folders? Imagine walking into a conference room where embedded computers identify your voice so that you can direct the movement of cameras and microphones for a presentation. When your coworkers walk in, they sit at laptops, identify themselves by thumbprint and then access their computers from the terminals in the room. NSF has awarded KU $1.29 million to investigate how to create ambient computational environments -- or "smart rooms." Those rooms, like the one shown in the computer-enhanced photo above, will respond to commands and gestures.
For more information, contact ITTC.