KU professor picks up honors from NASA

Lawrence,KS (10-19-2000)
NASA gave its Special Service Award to a Kansas University professor Wednesday in a ceremony at the space agency's headquarters in Washington, D.C..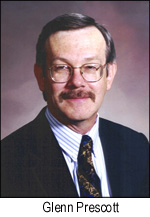 Glenn Prescott, professor of electrical engineering and computer science, earned the award by helping set up the NASA Earth Science Enterprise Advanced Information System Technology program, NASA officials said.
The program awards up to $15 million annually to researchers whose work helps NASA's Earth Science Enterprise to better understand changes to the global environment from natural and human activities.


"Glenn's work directly supported NASA's future ability to acquire, process and deliver large volumes of Earth remote sensing and related data to public and governmental entities in a timely manner," said Gordon Johnston, associate director for technology strategy at NASA's Office of Earth Science, Program Planning and Development, according to a statement.


Prescott worked at the NASA Earth Science Enterprise from May 1999 through mid-August, while on sabbatical from KU.


This is the second NASA award Prescott has received this year. On July 12, he received the Terra Award, for his contributions to the planning of future Earth-observing satellite information systems.


For more information, contact ITTC.