KU wireless, internet expertise nabs NASA project

Lawrence,KS (09-01-2000)
Researchers at the Information and Telecommunication Technology Center at the University of Kansas have launched their experience in high-speed wireless communications and Internet protocols into space with a $362,000 NASA grant.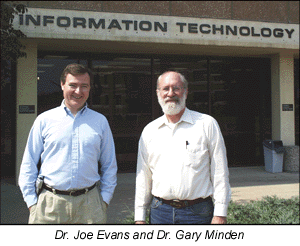 The National Aeronautics and Space Administration awarded the grant to ITTC's Gary Minden and Joe Evans for their project "Architecture for Space-Based Internets." The two-year project grew out of the ITTC's longstanding work in the area of Rapidly Deployable Radio Networks, a wireless high-speed communications system for moving military units in the field. The techniques and data gleaned from that project will now be applied to satellites orbiting in space.
The term "space-based Internet" might suggest e-mail traffic from Darth Vader or E.T., but the project focuses on the real problem of getting reliable communication pathways established among orbiting satellites and between those satellites and Earth.


Communicating with satellites now requires detailed and time-consuming scheduling. Transmissions must be timed to when a satellite will pass over a particular area, and satellite downtime disrupts schedules and may interrupt communications for long periods of time.


In comparison, the Internet on Earth flexes with disruptions and breakdowns by rerouting data along other pathways. With a space-based Internet, satellites could originate or terminate traffic and - most importantly - could reroute traffic traveling between other satellites and the ground.


"To achieve a space-based Internet," Evans said, "each observation satellite would carry a communications system with several channels or beams - either high-speed radio frequency or optical laser on a high-speed path - and a network control processor to switch traffic between the several communications channels and local payload."


A space-based Internet could make it possible, for example, to easily request and download aerial photos of Kansas cropland. "Using a NASA password, you could visit a Web site and message a satellite with a request," Evans said. "The satellite could respond with the time it would be over the desired location and when the photos would be ready for download."


Minden and Evans, KU professors of electrical engineering and computer science, and their team will research and evaluate the design, development and initial prototype of a space-based Internet. The team's work builds on ITTC's increasing expertise in Internet protocols and high-speed wireless communications.


For more information, contact ITTC.