KU hopes to revolutionize online learning

Lawrence,KS (01-22-2001)
If you've taken a class online, it's likely you saw a whole new world where chat groups, e-mail and Web pages were used as a way to learn and communicate with the instructor and other students.


If two research centers at the University of Kansas can pull it off, all that will seem like the dark ages of online learning.


The education-oriented Center for Research on Learning and the technology-oriented Information and Telecommunications Technology Center are teaming up to look for "a better way to learn."


KU's new e-Learning Design Lab will merge the expertise of the two research centers.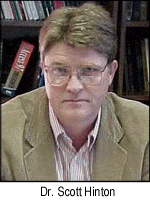 "We want to really try to understand what makes sense from an online learning environment, to modify how the content is presented to match learning," said Scott Hinton, one of the lab's co-directors and chairman of KU's electrical engineering and computer science department. "We're hoping to create very humane and almost invisible technology and environments that interact with the students."


The design lab will inherit four or five programs already under way or proposed at the two research centers and will spark new projects.


The Information and Telecommunications Technology Center is about to launch a computer proficiency program to determine how much students know about using computers.


The Center for Research on Learning is developing the Online Academy, a project to help teachers who work with students with disabilities.


Ed Meyen, co-director of the e-Learning Design Lab and professor of special education, thinks the two centers are a perfect fit.


"When you bring the knowledge and expertise on learning and teaching together with the knowledge base and history on technology, it makes for a pretty good marriage," Meyen said.


"In e-learning, we're concerned with far more than just the technology that makes it possible. We're also concerned with the pedagogy of how you teach and how you learn in this environment."


The lab already has submitted proposals for several million dollars in grants. "It's a hot area, and this is an appropriate time for us to jump into it," Hinton said.


About 15 faculty members have asked to be involved with the lab. It also will use KU students studying everything from graphic arts to programming.


As the program progresses, Hinton hopes the new lab will pay for itself through grants and consulting and will spin off new local e-learning businesses.


One of the center's biggest challenges may involve privacy issues.


"If we understand a student's learning style, how do we protect that from marketers?" Hinton asked. "We have to determine what is public."


For more information, contact ITTC.