Personal robots haven't made the millennium scene

Lawrence,KS (01-15-2001)
Included in David Toplikar's article on personal robots is a lengthy interview with Arvin Agah, an ITTC research associate and a member of the Center's Intelligent Systems and Information Management Lab.


"It's the perfect pet. It doesn't eat and you don't have to clean up after it."


The small mechanical beast blinked its electronic eyes. My brother continued showing me a few of its tricks.


His daughter, like thousands of other youngsters, had received the toy dog for Christmas. But she had moved on to other toys. So my brother and I were down on the floor, checking out some of its tricks.


Playing with it led me to wonder just where all of the rest of our robots are today. After all, it is 2001.


I didn't see any running around my house, doing the dishes, cleaning my laundry or fixing me a drink.


But researchers are working on them. And according to one industry organization, some simpler ones could be finding their way to your home in the next couple of years.


The Sweden-based International Federation of Robotics (www.ifr.org) says there are now 750,000 multi-purpose robots in use worldwide. And nearly 900,000 will be in use by 2003.


But most of those are the industrial models, such as the robotic arms used in Japanese car production lines.


Domestic-use robots still represent only 1 percent of the world's robots, the organization says. However, they could be rolling into your living room sometime soon.


Remember Rosie the Robot on the Jetsons TV cartoon?


If the price is right, more than 250 million vacuum-cleaning robots could be sold in the next two years, the IFR predicts.


Several businesses on the Internet feature such household robots.


If you're interested, check out "CareBot," www.geckosystems.com, and download the video. The CareBot PCR 1.1 base model costs $2,595. You can add the vacuuming function for another $400.


That's still a little pricey for most of us. More affordable robots that actually do chores are still far off for the average person.


"We are a good 15 years away from a robot that can pick up your dishes and do the dishes," said Arvin Agah, a Kansas University assistant professor of electrical engineering and computer science.


Researching robots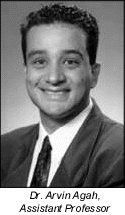 Agah, whose major research is in human-robot interaction, is now working with other KU researchers on a project funded by the National Science Foundation. He's looking into what it takes to build a robot so that an average person, without any training, can walk up to it and say "put that there" and have the robot do it.


To accomplish that, a robot needs to see, hear and have intelligence.


"Mechanically we are there. When it comes to small cameras and microphones, we have that," Agah said. "It's the brains, artificial intelligence that is the problem. Every researcher will agree that is the most difficult aspect."


Agah says today's service robots can do such tasks as mowing the lawn or vacuuming as long as the environment is fairly simple.


For example, it can roll around in your kitchen and avoid bumping into the cabinets. But don't expect it to go up the stairs or avoid the family cat.


The main places that service robots are used are in hospitals, where they roll along pre-determined paths to deliver patients' meals.


"We're really far from a robot that actually goes to anybody's house," he said.


Function vs. entertainment
Agah said a major category some of today's robots fall into is entertainment.


Sony's $2,500 Aibo robotic dog is one example. Aibo can play ball and move around. And, unlike it's cheaper imitations found recently under many Christmas trees (like at my niece's), you can "train" it with different types of behavior software.


Research is also going on to develop robots for the elderly, Agah said. The Japanese government has been a pioneer in promoting service robots for the elderly because of that country's growing elderly population, Agah said.


Today's simpler robots are also used in education as a tool to help students learn more about science, mathematics and mechanics, he said.


One category Agah mentioned was "telerobotics" that would allow you to have a "remote presence" by using a robot to see, hear and move through an environment. For example, you might walk on the moon through such a device. Or the military might use one in enemy territory.


Honda, the automobile company, spent about $10 million to build a human-like robot, which can walk, climb stairs, carry loads, push carts and turn around.


Such anthropomorphic devices are interesting, but still too expensive for the average homeowner, Agah said.


"I would say two or three decades before you and I would be able to buy one," he said.


A breakthrough will have to happen, such as when personal computers came on the scene in the 1980s.


"Personal robotics will revolutionize robotics the way personal computers did computers," he said.


Until then, we'll have to just keep watching cartoons, movies and playing with our children's toys.



For more information, contact ITTC.